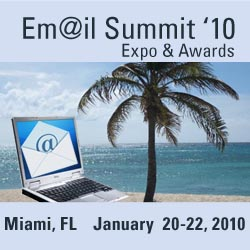 I'm happy to announce that in just over a month, I'll be heading down to Miami for the MarketingSherpa Email Summit 2010. I had a fantastic time last year, but I'm ten times more excited about this year's event. Why? Here are my top 5 reasons:

1. See My Old Email Marketing Friends
Last year I met so many fantastic people. I got to finally meet some long-standing twitter friends, and meet a lot of new folks. Coming from an organization where I was the only email marketer at the time, hanging out with all email marketers was a dream come true. I've come a long way since then and can't wait to geek out all over again about email marketing.
2. New B2B Track!
The new B2B track is reason alone to go to the summit this year. The one thing that would have made last year's event better was more B2B content. There will be no less than 8 specifically B2B sessions this year, delivered by MarketingSherpa folks and real B2B marketers.
3. Could I Be Winning an Email Marketing Award?
I am up for a few of the MarketingSherpa Email Marketing Awards this year. It would be quite exciting if I actually won - considering usually the winners are very big name agencies producing B2C email marketing campaigns. An award going to a small B2B company that does all their email marketing with ~2 people? Amazing!

4. Keynote Speaker: Joseph Jaffe of crayon (and Free Book!)
This year MarketingSherpa is bringing together their usual group of fantastic speakers, plus a fantastic keynote speaker: Joseph Jaffe, President of the marketing agency crayon. His session, "Flip the Funnel: How to Use Existing Customers to Gain New Ones - Email's NEW Critical Role," is based on his book - which all attendees will also receive.
5. Miami in January? Yes, Please!
Of course, if the summit were in freezing cold Minnesota, I would surely still be going. But on top of everything, the summit is taking place in warm, sunny Miami, Florida. So in the middle of the ugliest, coldest time in New England, I'll be heading down to geek out in the sun.

I will surely be blogging and tweeting (hashtag #sherpaemail) about the event in the coming months, so stay tuned. Or, join me at the 2010 Email Summit (and just for reading this, get $600 off the ticket price).