Some may say I finally bit the bullet... others may say I have succumbed... but I have recently gotten myself up on Twitter. For those of you who don't know, Twitter is (from their website) a service for friends, family, and co-workers to communicate and stay connected through the exchange of quick, frequent answers to one simple question: What are you doing? And you can update from the web, text message, Facebook, and more.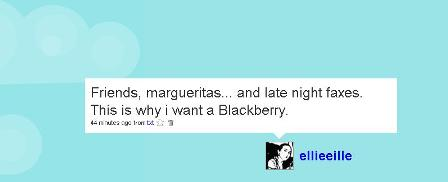 If you think StumbleUpon is a waste of time, oh you just wait till you're on Twitter. Now that sucks up time. Even more than Facebook, because who updates their status that often? PS - I love StumbleUpon, Facebook, and now Twitter.

And I especially love the Twitter Facebook App, and here's why.
No surprises - It's exactly what you expect, same format and features of Twitter itself.
Saves me effort - I can update my Twitter directly from the Facebook app. Also, it has direct links to my Twitter home.
The extra step - Can update my Facebook status based on my Twitter update! I haven't actually done this, as the idea behind Twitter is to post frequent updates, and I don't want to update my Facebook status as frequently. But it's amazing that that's an option, and who knows, I may end up using it down the line.
Now, the love is there. Let's build on it. Twitter - here's how you can continue to improve the Facebook app.
Simple update in Facebook Status Box style - What I mean here is, it would be great if you could also "tweet" from the Facebook profile badge (right now this is a static image).


vs.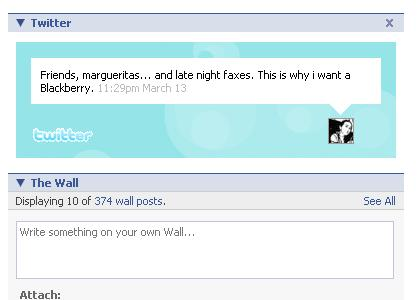 Customize the Facebook profile badge - It would be cool to be able to customize the profile badge with different layout, colors, and (more importantly, I think) number of recent updates showing (instead of just the current one).
Invitation to friends to join Twitter - I am shocked that I would actually advocate an option to spam my friends. Well, not actually spam. It would just be good to have something in the app or profile badge that invites people to join Twitter or follow me (ellieeille) in order to join in on the conversation. Because the more real people you have engaging in that conversation, the more interesting and valuable it is.
Well that's enough for me. I've expressed my love, now do with it what you will. If you're on Twitter, or you've now been inspired to join Twitter, follow me (ellieeille) and I'll notice and follow you too... that way we can stay up to date with each other all the time. Ha. Don't you love this constant connectivity? Scary sometimes.