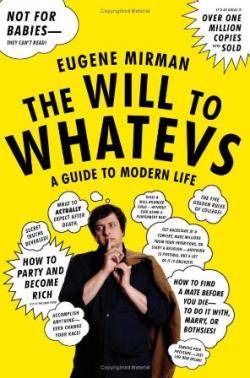 As perhaps the unofficial official blogger of my family, and also a well-intentioned member of society, I feel it is my duty to share this wonderful read. The Will to Whatevs is the ultimate self-help book for dealing with all of life's twists and turns, from school to marriage to death. Perhaps in that order, but perhaps not.
This guidebook comes from the very funny Eugene Mirman. I won't dare try to compete with Eugene's hilarity, but instead will share some of my favorite bits from his book...
The purpose of this book is clear.
"Our grandparents may have had twelve-hour workdays in dangerous, filthy factories, and limited medicine, but they can't imagine how hard it is to list your favorite bands on a social networking site in a way that maximizes what strangers think of you. Some of our parents may have gone to college, but did they temp at a weird PR firm or software company?"
This book provides very practical tips, including ideas for college essay topics, including:
How old people and young people are the same in so many ways, except age.
A concert or reading you went to that had a powerful affect on you.
How you overcame adversity (and tricking someone slightly older into having sex does not count).
How people are animals, but shouldn't be hunted.
Reasons it's wrong to be racist even though it makes sense to you.
Pearl Jam.
How your parents met their new spouses.
The perfect murder.
Your favorite places to throw up.
An essay title, "If I Were Eric Clapton..."
On explaining family relations, these words of wisdom may have held true when I was younger...
Good Uncle, Bad Influence: "Being an uncle is like being a rock star no one but your niece or nephew has heard of."
If you plan on coming out as gay,
"The best place to tell your parents you are a homosexual person from now on (no changing your mind back after college, okay?) is at a fancy restaurant... In the middle of the meal, show them a Vogue magazine (if you're a guy) or a Popular Mechanics (if you're a lady) and go, 'This is me now, and you have to accept it.' If they are confused, whisper, 'I'm gay.' The point of this roundabout exercise is the joy of deduction. Giving your parents clues and making them figure out that you're gay will give them a sense of accomplishment that will balance their initial shock."
And, of course, some wise career counseling.
"A new job is like a new glove. You are excited, but it's just a glove. Still, maybe it will fit well?"
And I can't help but have a soft spot for this section:
The Internet: How to Harness the Power and Reach of New Media: "Make a music video of all your friends fighting in a forest with animals. Make sure the animals are dangerous, but not too dangerous. So no one gets seriously hurt. Put that footage to your catchiest song and post it on YouTube. Then just wait. I forgot to add that everyone (including the animals) should be in their underwear."
Also, a while back I went to New York for the book release party for The Will to Whatevs. Brooklyn Vegan had a good recap of the event.