It's been a crazy week for us over at HubSpot - and I swear this time it's crazier than usual.
HubSpot 1K Customers Celebration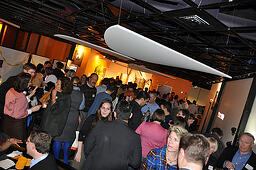 First up, we had our HubSpot 1K Customers Party, at which we had probably 200 HubSpot employees, customers, friends, and family join us in our new office to celebrate our 1,000 customer base.
We had HubSpot TV live, SWAG and temporary tattoo stations, tarot readings, foosball, RockBand, and, of course, food and drinks. It was a rockin' time, as the photos will illustrate.
MC Hammer Visits HubSpot TV

And the very next day, just to top the biggest company party ever, we had a surprise visit from - are you ready for this - MC HAMMER. Yup, he just happened to be in town and decided to visit our little ol' internet marketing startup.
Really, what happened was another twitter success story. He tweeted that he was in Boston, a number of HubSpotters responded, saying he should stop by... and he did! As my fellow HubSpotter, Rebecca Corliss, said, twitter really does level the networking playing field. Could you ever imagine our little software company getting a celebrity like that to come to our office?
View a short clip from his visit to HubSpot TV:
World Wide Rave Video
Now, just to top it all off, today David Meerman Scott posted a new video that features over 100 people who have created World Wide Raves (triggering people to spread their ideas and share their stories for free). Watch carefully for my cameo at about 1:12 (right after John Hodgman). David was very nice to even credit me in his post - thanks David!
P.S. - David's new book, World Wide Rave is pretty awesome (I got an advance copy - thanks again, David!) and it officially comes out at the beginning of March, though online sales have already begun.